fixed_misty1devel
Description
This workspace type has a Misty I Developer Edition by Misty Robotics. It is lifted, so the wheels are free to move while the center of the body is fixed. There is one webcam attached and visible from the device file /dev/video0. Every workspace instance includes an offboard host (x86_64 Linux) on the same network as the robot.
Note that the Misty I Developer Edition is superseded by the Misty II Field Trial robot.
Bill of materials
Photographs of a deployment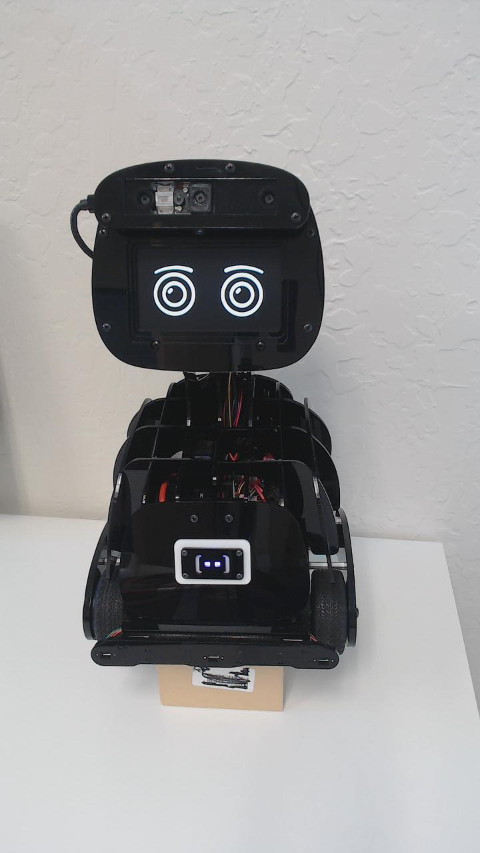 Changelog
version 6
change model of webcam to Logitech Webcam C270
-- Scott C. Livingston <(hidden)> Sun, 28 Apr 2019
version 5
remove second webcam because it was not found to be useful in practice
-- Scott C. Livingston <(hidden)> Sun, 10 Mar 2019
version 4
remove speakers because the fan onboard the robot creates too much noise for audio recording.
-- Scott C. Livingston <(hidden)> Sat, 9 Mar 2019
version 3
audio actuation via speakers (Logitech Z200) directed at robot
-- Scott C. Livingston <(hidden)> Sun, 16 Dec 2018
version 2
new prototype from Misty Robotics
-- Scott C. Livingston <(hidden)> Tue, 28 Aug 2018
version 1
-- Scott C. Livingston <(hidden)> Tue, 19 Jun 2018